Download Ajyal 2017 Film Guide

We have a bumper schedule of special events this year, with something for everyone to enjoy. From our inspirational Ajyal Talks to our fun-filled Family Weekend and Geekdom events. Be sure to check out our new LeBlockade exhibition too.
Ajyal's Family Weekend offers all sorts of delightful activities for the whole family – it's a full programme sure to engage young minds!
From 30 November to 2 December, Ajyal and its official festival partners invite you to a weekend of fun at Katara. All kinds of excitement awaits, and don't forget to check out the SONY Cinema Under the Stars for free outdoor screenings of family-friendly films. Kids will also love getting the blue-carpet treatment at the special screening of 'The Smurfs', and enthusiasts of cinema and music will enjoy 'My Little Beasts', a cine-concert featuring short animated films with live musical accompaniment.
See you on the Katara Esplanade!
30 Nov / 6:00 PM–10:00 PM
1 Dec / 3:00 PM–10:00 PM
2 Dec / 3:00 PM–8:00 PM
Entrance is free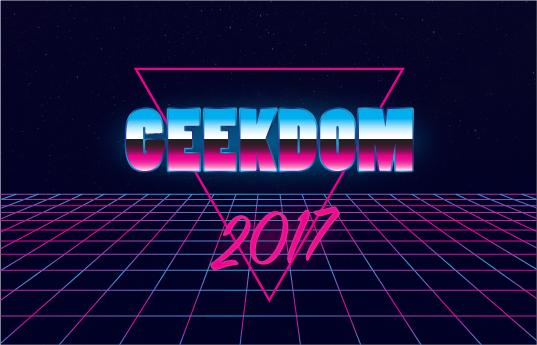 Geekdom returns with a celebration of all things pop-culture, from comics, movies, and television series to video games, art, works and cosplay. This year is packed full of activities like our lively tournaments, comic-a-thon competition, cosplay day and more. Whatever your passion, Geekdom is an unmissable event for any geek, nerd, fangirl or fanboy!
Join us at Katara Buildings 18 & 19.
30 Nov, 2 Dec, 3 Dec, 4 Dec / 10:00 AM–10:00 PM
1 Dec / 2:00 PM–10:00 PM
Entrance is free
This year, we are honoured to present a multimedia exhibition of films, digital artworks and installations that showcase the creative movement that emerged after the blockade. Many great artists have created works that are both inspiring and unifying for locals and expats alike. Although the events that led to these have been unfortunate, this work is a testament to the resolve and strength of the Qatari art community.
Join us at Katara Building 19.
30 Nov and 2-3 Dec / 10:00 AM–10:00 PM
1 Dec / 2:00–10:00 PM
4 Dec / 10:00 AM–4:00 PM
Entrance is free
This year's thought-provoking Ajyal Talks cover a broad range of topics, including how film can play an integral role in helping people deal with adversity and a look at the impact of media on our daily lives. We also examine the heartbreaking issue of contemporary child-trafficking, and chat with visual artist Shirin Neshat about her work.
---
Perceptions: Media Influences on our Daily Lives
Join us as a panel of world-renowned social media personalities share their views on the current state of the media and how it impacts our daily lives. Following their short presentations, they will engage in an insightful group discussion and a moderated Q&A session with the audience.
Thu 30 Nov / 6:00–7:00 PM / K16-DT
FREE – Please reserve a ticket for admission
---
Overcome: How Art Beats Adversity
History has proven that times of struggle can often ignite social movements and inspire compelling works of art. Unique voices emerge that can provide perspective, using their craft to pave the way to progress. This panel invites members of the young Qatari film community and a representative of the Sarajevo Film Festival to share their stories and draw parallels between their experiences.
Fri 1 Dec / 6:30–7:30 PM / K16-DT
FREE – Please reserve a ticket for admission
---
Not for Sale: A Focus on Child Trafficking
A poignant discussion held by UN representative Jenna Dawson-Faber and Professor of Law at Qatar University, Dr. Mohamed Y. Mattar, a legal expert in the field of human trafficking. This talk follows the screening of 'Even When I Fall', with the panel joined by filmmakers Sky Neal and Elhum Shakerifar, and two of the trafficking survivors who are profiled in their film.
Sat 2 Dec / 4:30–5:30 PM / K16-OH
FREE – Please reserve a ticket for admission
---
In Conversation with Shirin Neshat
The acclaimed Iranian visual artist and filmmaker Shirin Neshat will take us on a journey through her life as an artist in exile and her politically-charged work which spans photography, film and video work. Her latest film, 'Looking for Oum Kulthum', features as an Ajyal Special Screening this year. The conversation will be moderated by Fatma Al Sehlawi, a Qatari architect and founder of Atlas Bookstore in Doha.
Sun 3 Dec / 6:00–7:00 PM / K16-OH
FREE – Please reserve a ticket for admission
We are thrilled to celebrate 70 years of everyone's favourite little blue creatures with this smurfy presentation of 'The Smurfs'. Come dressed as your favourite Smurf as we turn this year's red carpet blue! Papa Smurf and Smurfette will arrive at 2:15 PM, so join us early for your chance to meet them before the screening.
Fri 1 Dec / 2:15 PM / K16–DT