Under Her Skin
Spring Grants 2020 - Post-Production Stage
Current project status: COMPLETED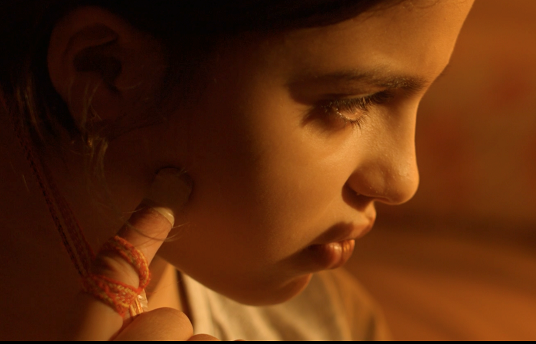 Synopsis
When her mother forbids her from biting her nails, Sarah must now abide by rules she does not fully understand. By regaining control over her actions and projected image, Sarah slowly redefines her attitude towards herself and others.
Credits
Director

Meriem Mesraoua

Screenwriter

Meriem Mesraoua

Producer

François D'Artemare
About the Director
Meriem Mesraoua earned a BSc with Honours in Media Industries and Technologies from Northwestern University. Her short films include 'Our Time Is Running Out' (2017) and 'Under Her Skin', which premiered at the 2020 Venice Film Festival. Meriem is currently developing her first feature narrative, 'The Other Wife'.
Production Company Profile
Les Films de l'Après-Midi has produced and co-produced films from all over the world. Their work spans Bosnia ('Snow' by Aida Begic – Critic's week Grand Prix Award, Cannes 2008, 'Children of Sarajevo' – Mention of the Jury Un Certain Regard, Cannes 2012), Angola ('The Hero' by Zeze Gamboa – World Cinema Dramatic Jury Prize at Sundance 2005), Portugal ('Montanha' by João Salaviza – Venice 2015, 'Saint George' by Marco Martins – Venice 2016), Romania ('one Floor Below' by Radu Muntean – Un Certain Regard, Cannes 2015, 'Alice T'. – Locarno 2018), Bangladesh ('Made in Bangladesh' by Rubaiyat Hossain – TIFF 2019), and Tunisia ('Noura's Dream' by Hinde Boujemaa – TIFF 2019). The company now develops the feature films of Marco Martins, Angela Schanelec, Laurent Herbiet, Diana Saqueb Jamal, Mohamed Siam, and Meriem Mesraoua, among others.
Contacts