Two or three things I don't know about her
Spring Grants 2021 - Production Stage
Current project status: PRODUCTION
Synopsis
Lila is an 18-year-old girl living in Brest, France. She plays football and has a boyfriend who comes to see her at her practice because she has not been answering his calls. Lila resents him because he doesn't seem to understand her faith. When they have a conversation, Lila brings up marriage and he laughs at her, so she decides to break up with him.

At home, Lila's mother is preparing dinner for Eid. One of Lila's sisters arrives with a guest, but Lila does not feel like seeing people. And to make things worse, she gets into a fight with her brother. Upset, Lila decides to go see a friend and promises to be back for dinner.
Credits
Director

Sabrina Idiri Chemloul

Screenwriter

Sabrina Idiri Chemloul

Producer

Marion Barré
About the Director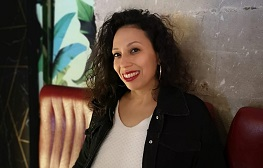 A member of L'Etna, the Experimental Cinema Workshop, Sabrina Idiri Chemloul directed her first short film, 'Ces Images Qui me Regardent' in 2002. She then pursued her career in Canada and the United States, where she directed another short film, 'Mario's Flower' in 2005. She collaborated as a script supervisor on various independent feature films and television shows (HBO, PBS, Comedy Central) while starting to write her own screenplays. Her first feature screenplay received a rewriting grant from the French Centre National de la Cinématographie and was further developed at the screenwriting residencies Atelier Grand Nord (Canada, 2016) and Méditalents (France, Morocco, 2016). The screenplay was also shortlisted at the Rawi Screenwriters' Lab (Jordan, 2016) and Cinephilia Inspire Residency (New York, 2017). She is currently developing a documentary project (Africadoc 2018) and showcased a video installation as part of a contemporary art exhibition at La Maison des Arts this April 2021 in Malakoff, France.
Production Company Profile
La Cellule Productions is a production company that develops fiction and animation films. Marion Barré and Soyo Giaoui—the associate producers—have a bold and eclectic editorial line. Both self-taught, they like the idea of working and "growing together", supporting a broad range of creatives who share their artistic ambitions. Recently, they've been experimenting with other formats such as TV series and developing international co-productions. The movies produced by La Cellule have been broadcast on major TV channels such as OCS and ARTE France, and have been shown around the world in renowned festivals (Clermont-Ferrand Short Film Festival, Côté Court-Pantin, Ottawa Animation Film Festival, Sedicicorto, Tampere Film Festival, Tricky Women, Tokyo Anime, etc.).
Contacts
Main Contact

Marion Barré

Company:

La Cellule Productions

Phone:

+33623867591

Email:

marion@lacelluleproductions.com