The Earth Doesn't Move
Fall Grants 2018 - Production Stage
Current project status: PRODUCTION
Synopsis
In a small village in the heart of the Italian Alps, asylum seekers are waiting for the end of a long and exhausting judicial process and hoping to get the Italian government's response to their asylum applications. They live in an old three-star hotel converted to a reception centre for asylum seekers by its managers—an Italian family that's also living there. Sandrio's Prefecture supervises the place. In this mandatory waiting interval, they learn the rural and mountain reality that characterizes the North of Italy. They also discover the institutional and bureaucratic face of a Europe that "welcomes" them. Moreover, they face the disciplinary deployment keeping a constant eye over them. One day, a film crew comes to the centre to make a
documentary about the building and its residents. The camera takes place under the suspicious look of the asylum seekers who are used to living with the supervision of dozens security cameras set up everywhere in the centre.
Credits
Director

Yosr Gasmi, Mauro Mazzocchi

Producer

Mauro Mazzocchi
About the Director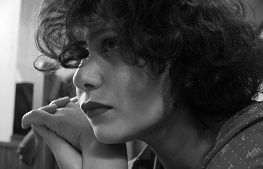 Yosr Gasmi is a Tunisian filmmaker, a post-graduate in French and comparative literature from Paris IV and the ENS of Tunis. A writer, actress and director, she is mainly interested in the image in its various artistic and scriptural expressions. In 2014, she and her partner Mauro Mazzocchi began their first film project 'I Want to Be Mad, Raving Mad - L.E.N.Z.-' (2016). This independent production has been considered by "Nawaat" as the second-best movie made between 2011 and 2017 in Tunisia. 'The Earth Doesn't Move' is her second film.
Production Company Profile
The production company L'Argent was created in 2015 by a group of filmmakers that have been working together for several years. They stand for creative cinema by exploring the boundaries of documentary and fiction. Established on a framework of common concerns, approaches and experiences, the L'Argent company supports in its operations the "horizontality" of relations and projects. They emphasize the fact that films must be made according to personal perspectives, which lead to giving a different point view each time. Previous credits include: 'Chantier A' (2013) by Tarek Sami, Karim Loualiche and Lucie Dèche; 'Reflux' (2013) by Guillaume Bordier; 'Metamorphosis' (2015) by Nicolas Pradal and Pierre Selvini.
Contacts
Main Contact

Mauro Mazzocchi

Company:

L'Argent

Phone:

+393383632712

Email:

mauro.mazzocchi1986@libero.it