Land Of Women
Spring Grants 2020 - Production Stage
Current project status: PRODUCTION
Synopsis
In an impoverished and patriarchal Egyptian village by the Nile, seven teenage girls rebel by forming an all-female street theatre troupe. Through the building and dismantling of their primitive stage, the girls resist the classical roles they are destined for. Instead, they role-play as women, boys, men and trees. They are at that age where they can be anything they imagine to be. They sing, dance and run around performing, confusing their families, challenging the villagers and the camera. While fighting against time itself, against a future already written, they seduce us into a world where they have the power to transform into mystical characters and to write their own future. Their unawareness of their own limitations pushes the boundaries of theatre and film. A hybrid documentary that engages in a conversation with the girls using theatre, performances, monologues, songs, reconstruction of myths, dreams, confessions and self-portraits, chasing the wildness and elusiveness of being young.
Credits
Director

Nada Riyadh

Screenwriter

Nada Riyadh

Producer

Ayman El Amir
About the Director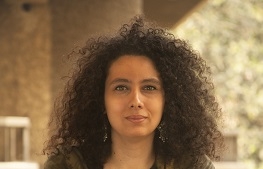 Nada Riyadh is an Egyptian director and screenwriter. Her debut documentary film 'Happily Ever After', premiered at IDFA in 2016, and was later screened in more than 20 international film festivals. Her short fiction film 'Fakh' ('The Trap') was selected for the official competition of 58th La Semaine de la Critique, Cannes Film Festival 2019 and TIFF 2019. Her work mainly focuses on exploring the depth and complexity of the human psyche and relationships through the visual medium.
Production Company Profile
Felucca films is a Cairo-based production company that aims to help filmmakers explore and shape their own personal voices and to produce unique and original fiction and documentary films, with a particular focus on fresh and new talents and contemporary social issues. Felucca's latest productions include 'Fakh', Cannes' Semaine de la Critique 2019 and 'Happily Ever After', IDFA 2016. Felucca Films has a special focus on script development through its script development programme (MAHD Film Lab) which works as an incubator for new Arab film productions and Arab-European co-productions.
Contacts