Jump the Wall
Spring Grants 2022 - Post-Production Stage
Synopsis
A filmmaker has come to Sweden to present his film 'The Healer'. He receives a surprising call from Italy–—a friend has just discovered a series of videotapes of his early filming near a bin in Bologna. Viewed a few days later, these archives bring back buried memories for the filmmaker, who evokes his beginnings in Europe after illegally fleeing his country of origin, Morocco. He then felt the need to delve into his history and to question a desire that seems eternal and irrepressible among Moroccans like him—why cross the border and leave his native country? While he was planning to bring back to his favourite actor, Mehdi El Arroubi, the trophy he won for best actor at the Tangier festival, the latter tells him that he has gone into exile and is surviving illegally as a butcher in Spain. The filmmaker decides to follow in Mehdi's footsteps.
Credits
Director

Mohamed Zineddaine

Screenwriter

Olivier Bombarda, Mohamed Zineddaine

Producer

Rachida Saadi

Production Company

Janaprod
About the Director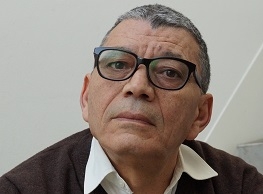 Mohamed Zineddaine is originally from Morocco, but he left in 1983 to study in France. After a year, he fled to Italy to stay in several cities before finally settling in Bologna, where he forged his artistic tools as a photographer, scriptwriter, director and producer.
Contacts