I Have Been Watching You All Along
Fall Grants 2016
Current project status: COMPLETED
Synopsis
A young woman wanders about an abandoned cinema, rummaging through its storerooms and curiously exploring the mechanical and celluloid detritus that has been left behind. A sense of transgression is in the air – the woman is, after all, trespassing – and she finds herself constantly being watched by several men who, we assume, oversee the disused property. This vague threat notwithstanding, she projects scraps of old footage, creating a freeform narrative all her own, breathing new life into forgotten artifacts.
Credits
Director

Rawda Al-Thani

Screenwriter

Rawda Al-Thani

Producer

Kamal Aljafari
About the Director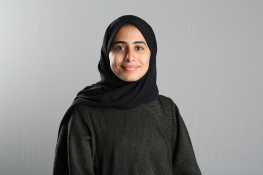 Rawda Al-Thani is a film programmer and filmmaker. In her films, she aims to examine the rapidly changing urban landscape of Qatar and its effects on its people.
Awards and Festival History

Festivals


"Qumra 2017, New Voices in Cinema (WP)
San Francisco Arab FF 2017
Adelaine FF 2017
Thubingen Arab FF 2018, Short Cuts to Qatar
Doha Palestine Cinema Festival (DPCF) 2018
"
Contacts