Gubgub
Spring Grants 2018
Current project status: COMPLETED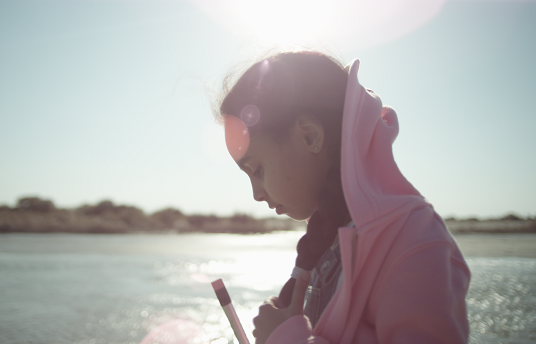 Synopsis
After securing her first catch of the day while crab-hunting with her father and brother, bright-eyed Jawaher proudly shows it to her father. He dismisses her outright but goes on to praise her brother's haul. Determined to win her father's approval, Jawaher shrugs off his hurtful reaction and sets out to catch ten crabs. On her quest, she finds herself battling for a catch with Nawaf, a boy who shares her goal.
Credits
Director

Nouf Al Sulaiti

Screenwriter

Nouf Al Sulaiti

Producer

Justin Kramer
About the Director
Nouf Al Sulaiti is a Qatari producer with a passion for storytelling. She has worked on numerous film projects, both fiction and documentary, including AJ Al Thani's 'Black Veil', Yassine Ouahrani's 'Noor' (2017), Zaki Hussain's 'How to Get Over a Heartbreak' (2017), and her own 'Outdated' (2016) and 'Papers' (2016), both of which she also produced. Nouf has received grants to make Zaki Hussain's 'Terima Kasih', and Zahed Bata's 'Burn the Bird', which she is producing, and her own, 'Gubgub'. Nouf is currently producing a feature film called 'Khuzzama'.
Production Company Profile
The Film House is a Doha-based film, video, photography and multimedia production company. Its talented team of experienced and creative storytellers, documentarians, animators, photographers, and film directors cover all aspects of projects, from idea generation through post-production. Not a traditional production company, The Film House offers flexible production to facilitate a range of requirements. With a wealth of local knowledge and Qatar's community in mind, the company is primed to foster local talent and to redefine visual storytelling in the region. The Film House is a home for high-calibre international productions that want to come to town and place Qatar in the spotlight.
Awards and Festival History

Festivals


"New Voices in Cinema Shorts, Qumra 2019
Shorts for all Ages, Austin FF 2019
Qatar Delights, Doha Palestine Cinema Festival 2019"

Awards


Mohaq Best Short and Abdulaziz Jassim Award for Best Performance (Fatima Al Nahdi), Ajyal 2018
Contacts