From Abdul To Leila
Fall Grants 2016 - Production Stage
Synopsis
After an accident that causes her to lose her memory and several years of exile, a young Franco-Iraqi woman reconnects with her family to understand who she is. Reunited at her family home in the south of France, Leila confronts her father Abdul with his own past, the Iraq war, and decides to learn Arabic to put into song the poems he wrote to her. The language and the music gradually open the way to long-suppressed memories and lead her to discover her origins and the Arab world. The odyssey of a woman who sings her history to reinvent herself, inhabited by an irrepressible desire to live.
With the support of: Die Beauftragte de Bundesregierung für Kultur und Me- dien-BKM, Centre du cinéma et de l'audiovisuel de la Fédé- ration Wallonie-Bruxelles, Medienboard Berlin Brandenburg, Arab Fund for Art and Culture – AFAC, Doha Film Institute, Filmkunstering, Goethe Institute of Cairo, French Institute of Tunis.
The film participated in Dubaï Film Connection, Sarajevo Cinelink Work in Progress, Medimed Barcelona.
About the Director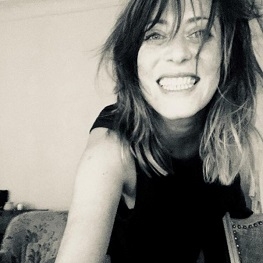 Leila Albayaty is a French-Iraqi singer, composer, film director, screenwriter and performer based in Brussels and Berlin. Her first short film, 'Vu', had its world premiere at the Berlinale 2009, where it received a special mention from the jury. In addition to directing the film, she also played the starring role and composed the soundtrack. Building on the experience of this inaugural directing adventure, she went on to make her first feature, 'Berlin Telegram' (2012), which travelled to more than 30 festivals around the world and had its Arab world premiere at the Dubai Film Festival. The film won the TV5 award for Best Francophone Film at the Geneva International Film Festival and the Best Cinematography award at Achtung Berlin. In 2015, she directed 'Face B', a docu-fiction musical that had its world premiere at the Berlinale Forum Expanded in 2015. 'Berlin Telegram' and 'Face B' are both distributed by Arsenal in Germany.