Facing the Dragon
Spring Grants 2018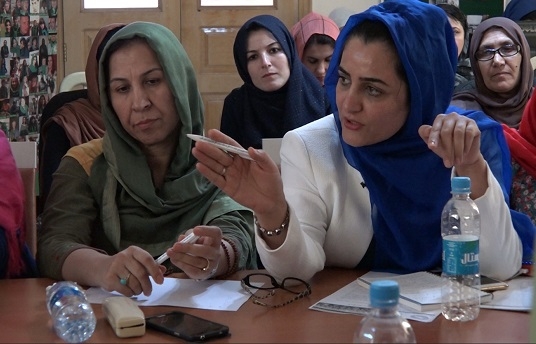 Synopsis
In a documentary filmed over four years, filmmaker Sedika Mojadidi intimately follows two unconventional Afghan women, Nilofar, a member of parliament and Shakila, a television journalist. As American forces and aid leave Afghanistan, the country's fragile democracy and the recent gains for women hang in the balance, forcing Nilofar and Shakila to choose between their children and their country amidst threats to both their lives and families.
Credits
Director

Sedika Mojadidi

Screenwriter

Sedika Mojadidi, Jenny Raskin

Producer

Jenny Raskin

Production Company

Mojo Mama Films LLC
About the Director
Sedika Mojadidi is an independent filmmaker and producer. She was born in Kabul, Afghanistan, and grew up in the United States. She holds an MA in Film Theory from the University of Florida and an MFA in Video from the School of the Art Institute of Chicago. Sedika directed and produced the feature documentary 'Motherland Afghanistan', which follows her father's struggle to make a difference in the maternal mortality epidemic gripping Afghanistan. It aired nationally on Independent Lens and the Global Voices Documentary Series. The United Nations Population Fund selected 'Motherland Afghanistan' for screenings across the country, and the film has screened at numerous festivals around the world. Mojadidi has also worked as a producer and camerawoman for ABC News, A&E, Discovery, TLC, Guardian Multi-Media and Human Rights Watch.
Awards and Festival History

Festivals


"Los Angeles FF 2018 (WP)
Zurich IFF 2018
UNAFF 2018 (CA)
Hot Springs Documentary FF 2018
Savannah FF 2018
Braunschweig IFF 2018
Les Femmes des Terres FF 2018
Human Rights Watch FF 2019
One World Int'l Human Rights Documentary FF 2019"
Contacts