Burning Birds
Fall Grant 2013 - Production Stage
Current project status: COMPLETED
Synopsis
1989. A small village in eastern Sri Lanka. After her husband is abducted, tortured and murdered by state army, Kusum must fight to look after her eight children and mother-in-law all by herself. After being physically and sexually abused, and working a number of odd jobs,
Kusum falls into prostitution. The police arrest her while she is working in a brothel. Soon the news spreads throughout the village and her family's fate is turned upside down…
Credits
Director

Sanjeewa Pushpakumara

Screenwriter

Sanjeewa Pushpakumara

Producer

Antonin Dedet
About the Director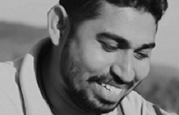 In 2011, Sanjeewa made his first feature film, 'Flying Fish' which was supported by the Hubert Bals Fund. The film has been selected by 28 film festivals around the world, including the International Film Festival Rotterdam. The film has won many awards, among them the Best Director Award from the St. Petersburg International Film Festival, and Best Asian Cinematographer at the Asian Film Festival..
Production Company Profile
Neon Productions is a French production company founded by Antonin Dedet in 2002. Since its creation, Neon has produced or co-produced 18 feature films, more than 45 short films and five documentaries, of which two are feature-length. The company has co-produced feature-length films with more than a dozen countries around the world. Working with directors who have a strong individual viewpoints, the company aims to support ambitious and meaningful arthouse cinema. Neon's most recent features include Merzak Allouache's 'Madame Courage', which screened in Venice in the Orizzonti competition; Tsai Ming-liang's 'Journey to the West', which screened at the Berlinale in 2013; Djamila Sahraoui's 'Yema', an Orrizonti competition selection at Venice in 2012; Jean-Jacques Jauffret's 'Après le sud', which screened in the Directors' Fortnight at Cannes in 2011; and Maryam Keshavarz's 'Circumstance', which won an Audience Award at Sundance in 2011.
Awards and Festival History

Festivals


Busan International Film Festival 2016, New Currents Competition (WP)
International Film Festival Rotterdam 2017, Bright Future Competition
Gothenburg Film Festival 2017, Ingmar Bergman Competition
African, Asian and Latin American Film Festival in Mil

Awards


Special Jury Prize, International Film Festival Tokyo Filmex 2016
Grand Prix Fiction and Human Rights Award, and Young Jury Award, Int'l Film Festival and Forum on Human Rights in Geneva 2016
Contacts