Blacklight
Fall Grants 2020 - Production Stage
Current project status: PRODUCTION
Synopsis
Sofiane is an Algerian who has enjoyed a relatively easy life growing up abroad as a diplomat's son. Based in France for his studies, he aspires to a promising career as a diplomat also. Everything appears fine on the surface, but under the varnish hides an anxious boy with self-destructive behaviour, who has trouble assuming his multiple identities and knowing who he really is. Suddenly falling victim to an administrative decision, he becomes illegal. In order to legalize his situation quickly, Sofiane finds a job in a Muslim funeral home belonging to one of his father's cousins. Mr Boutlali agrees to take on Sofiane as an intern, with a promise of employment to regularise his situation as fast as possible. But Sofiane has to work with El Haj, an elderly, surly, taciturn and unsympathetic man. The relationship between the two is difficult, but El Haj teaches Sofiane about much more than the job. Becoming ambassadors for the dead turns out to be a life-changing experience…
Credits
Director

Karim Bensalah

Screenwriter

Jamal Belmahi

Producer

Oualid Baha (Tact Production)
About the Director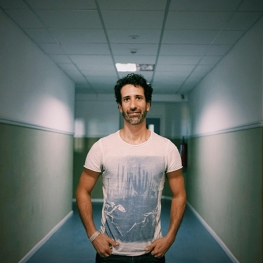 Karim was born the son of an Algerian father and a Brazilian mother. After growing up Algeria, Brazil, Haiti and Senegal he moved to France to study Social Sciences and Philosophy before entering the London Film School.
Karim's last short, Les Heures Blanches, shot in Canada, was broadcasted by France 2. In competition at Clermont Ferrand it won an award at the Outaouais Film Festival. His previous shorts were also shown in competition at Clermont Ferrand and broadcasted by European TV stations.
Karim participated in the Sundance Screen Writer's and Director's Lab in 2012 with his project Red Olive Tree.
He also works as an actor, writer and script consultant around the world developing, for more than 15 years, educational film workshops with children, teenagers and under-represented minorities. These educational programs represent for Karim a real political field but also have opened an aesthetic and cinematographic experimentation where he has developed a practice around collective writing.
Production Company Profile
Tact Production produces fiction and documentary films. Our desire is to bring strong and unique works to the screen, from authors of all backgrounds. We pay particular attention to the relationship with our authors, whom we support at each stage of the filmmaking process. Internationally oriented, our company develops numerous projects driven by passion and high standards. The company is currently developing new projects, willing to give them a strong international resonance.
Contacts
Main Contact

Oualid Baha

Company:

Tact Production

Phone:

+33649778643

Email:

oualid@tact-production.com