Ali, the Goat and Ibrahim
Fall Grant 2012
Synopsis
Ali loves a goat called Nada. Ibrahim, a depressed sound engineer who hears voices he cannot decipher. Ali's mother drags him to a healer, who gives Ali stones to throw into the water so that he will be healed. At the healer's place, Ali meets Ibrahim, who has been given similar stones. In order to throw the stones into the sea, Ali, his beloved goat and Ibrahim embark on a journey along the shores of Egypt, and it turns into a voyage of friendship and self-discovery.
Credits
Director

Sherif Elbendary

Screenwriter

Ibrahim El Batout, Ahmed Amer

Producer

Hossam Elouan, Titus Kreyenberg, Guillaume De Seille

Production Company

Film Clinic, Transit Films

Production Company

Film Clinic
About the Director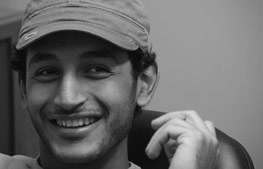 Egyptian filmmaker Sherif Elbendary lives and works in Cairo. He graduated from the High Institute of Cinema in Cairo in 2007. His short films, 'Rise & Shine, (2006) and 'At Day's End' (2008), appeared in numerous film festivals and won many awards. Sherif's 'Curfew' was part of the omnibus film '18 Days', which screened at the Festival de Cannes in 2011, and his 'Dry Hot Summers' won the Robert Bosch Film Prize in 2014, and was in competition at the Clermont-Ferrand International Short Film Festival in 2016. 'Ali, the Goat and Ibrahim' is Elbendary's feature-length debut. He is currently preparing his second feature, '2 Rooms and a Parlor'.
Awards and Festival History

Festivals


Hamburg FF 2017
Rotterdam Arab FF 2017
AFAC Film Week, September 2018 (Algeria)
16th Rencontres Cinématographiques de Béjaia 2018, AFAC Carte Blanche
AUGEN BLICKE AFRIKA 2018 (Germany)

Awards


Best Actor (Ali Sobhi), Dubai IFF 2016 (WP)
Best Feature Film Award, Malmo Arab FF 2017
Contacts
Co-Producer

Mohamed Hefzy

Company:

Film Clinic

Phone:

+202 25010303

Email:

mohefzy@film-clinic.com