The Murderers Are Among Us (Die Mörder sind unter uns)
DFI Cinema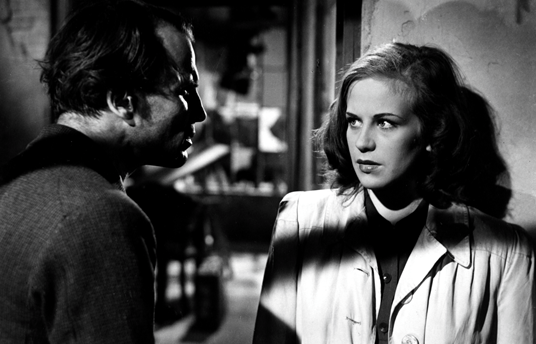 Come back soon to see screening dates
Synopsis
When Susanne returns to Berlin after her release from a concentration camp, she discovers the ex-army doctor Hans squatting in her war-ravaged apartment. The pair become roommates, then Hans encounters his former commander, who was responsible for the wartmine slaughter of a hundred Polish prisoners of war. Hans and Susanne find themselves falling in love, but at the same time he plots to avenge the mass murder.

The only film in our series to come from Soviet-controlled East Germany, Wolfgang Staudte's 'The Murderers Are Among Us' is a very early example of the "Trümmerfilm", which arose in European cinema immediately after World War II – the term translates to "rubble film" and is a reflection of the state of the bombed-out cities of the Axis countries that features as the backdrop for stories of post-war hardship, both psychological and practical.

After war's end, the lawlessness and terrors that had characterised the conflict did not cease, with acts of vigilantism to exact retribution becoming all too common. Perceived war crimes and betrayals and were punished by individual civilians, outside the rule of law. Acknowledging the unthinkable horrors that took place at the hands of the Nazis and the profound psychological scars they wrought, 'Murderers' pleads for a return to ordered justice, suggesting it as the only path to peace for a deeply wounded world.
About the Director
Wolfgang Staudte was born in Saarbrücken in 1906. During the Nazi regime, he appeared as an actor in films including 'Jud Süss' (1940), the notorious anti-Semitic propaganda film, and much of his filmmaking work in East Germany in the decade after the end of World War II can be seen as a working through of his involvement in the films of that period. His criticism of the dangers of national pride can be found throughout his work, which includes 'The Murderers Are Among Us', 'The Kaiser's Lackey' (1951) and 'Rose Bernd' (1957). Staudte died in 1984.
Credits
Director

Wolfgang Staudte

Screenwriter

Wolfgang Staudte

Editor

Hans Heinrich

Music

Ernst Roters

Cinematographer

Friedl Behn-Grund

Cast

Hildegard Knef, Elly Burgmer, Erna Sellmer, Hilde Adolphi, Marlise Ludwig