The Host (Gwoemul)
DFI Cinema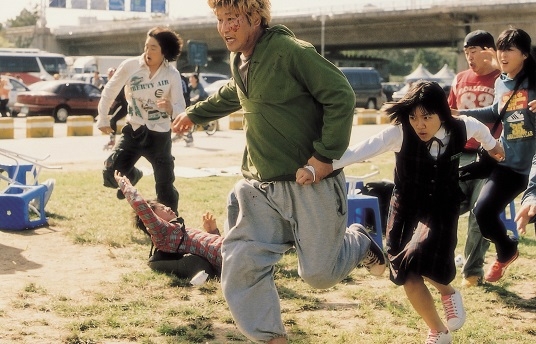 Come back soon to see screening dates
Synopsis
Few things say 'horror film' quite like a really good monster – and monsters tend to arise from some of our most basic fears. Sometimes, they want to eat us (think 'Jaws', 'An American Werewolf in London', 'The Blob' or 'Little Shop of Horrors'); sometimes they just want to kill us ('Creature from the Black Lagoon'). Now and then, the beasts like to assimilate our minds or bodies ('The Thing', 'Invasion of the Body Snatchers'); sometimes, they live in our dreams ('A Nightmare on Elm Street'); and then there are those pesky xenomorphs that violate our bodies to incubate their young (the 'Alien' franchise).

Monsters are commonly the result of experiments gone wrong (the modern ground zero being Mary Shelley's 'Frankenstein'), or a catastrophic side effect of careless science – examples are as varied as 'Empire of the Ants', 'The Fly' and 'Godzilla' – and Bong Joon-ho's 'The Host' falls squarely in this camp.

Some years after a thoughtless scientist insists that his assistant dump a huge amount of formaldehyde into the Han River, a giant mutated water creature emerges to terrorise the locals – and soon kidnaps Hyun-seo, the daughter of dim-witted but well-meaning Gang-du. To rescue her will be difficult, what with the authorities trying to contain a viral breakout caused by the monster, but Gang-du's family are up for a challenge. Equal parts comedy and horror, 'The Host' broke South Korean box-office records on its release in 2006.
About the Director
Bong Joon-ho was born in Daegu, South Korea, in 1969 and studied Filmmaking at the Korean Academy of Film Arts. He came to international attention with his second feature-length film 'Memories of Murder' in 2003; his third feature, 'The Host' (2006), was a massive hit worldwide. His other films include 'Mother' (2009), 'Snowpiercer' (2013) and 'Haemoo' (2014).
Credits
Director

Bong Joon-ho

Screenwriter

Bong Joon-ho, Ha Won-jun, Baek Chul-hyun

Producer

Choi Young-bae, Joh Neung-yeon

Editor

Kim Sun-min

Music

Lee Byung-woo

Cinematographer

Kim Hyung-ku

Sales Company

Chungeorahm Film Co.

Production Company

Chungeorahm Film Co.

Cast

Song Kang-ho, Byun Hee-bong, Park Hae-il, Bae Doo-na, Ko Ah-sung