Psycho
DFI Cinema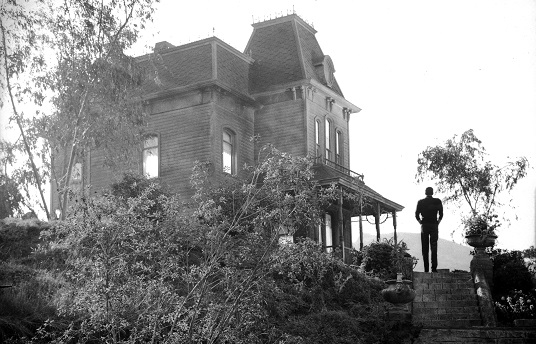 Come back soon to see screening dates
Synopsis
Marion Crane makes a terrible mistake: she steals a large sum of money from her employer's safe. With that, she is on the lam. Eventually, of course, she will have to sleep, and Marion's choice for a good night's rest is the desolate and somewhat run-down Bates Motel. The vaguely creepy establishment's proprietor – name of Norman – seems a tad odd; as she will be the motel's sole customer this evening, however, Marion is pleased with her stroke of luck. But not for long.

Alfred Hitchcock's 'Psycho' changed the course of thriller history, and its impact on horror films to come cannot be underestimated. While it was not the only film to play with the notion of an unhinged murderous mind at the time of its release – Michael Powell's 'Peeping Tom', an equally well-made film about a crazed serial killer, came out the same year – nevertheless, tropes from Hitchcock's work are echoed in seminal slasher films like John Carpenter's 'Halloween' and Fred Walton's 'When a Stranger Calls', homages like Brian De Palma's 'Dressed to Kill' and Gus Van Sant's faithful 'Psycho' remake, and scores of copycats, sequels and send-ups.

With its extreme (at the time of its release) violence, its methods of toying with the viewer's sympathies for the villain, and of course the brilliant construction of its (in)famous shower scene, 'Psycho' is a cinematic masterpiece from a giant of filmmaking.
About the Director
In 1960, with 'Psycho', Alfred Hitchcock turned the corner from gripping suspense to unnerving horror, a direction confirmed by his follow-up with 'The Birds' in 1963. Loosely based on a short story by Daphne Du Maurier, the film serves up an apocalyptic vision of a world overrun by flocks of killer birds – revenge, perhaps, for the laissez-faire decadence of mankind, embodied by the louche socialite Melanie Daniels.

Hitchcock is known for his masterful precision in every choice made to create meaning in his films, and it is no surprise this rigour extends to costume design. Here, Melanie wears only three basic outfits; besides a coldly threatening dark grey suit and a cheap matronly nightdress, it is the iconic, timeless and elegant green jersey suit that draws the greatest attention, primarily because it is worn for most of the film.

Reflecting the protagonist's character and the film's complex, elusive psychology, the suit is green for nature, but also green for envy and bile. Note how its colour, and so Melanie, rhymes with the lovebirds seen at the film's start – deceptively peaceful creatures that are eventually identified with mindlessly murderous gulls, crows and starlings. Like Melanie, the suit remains pristine and composed until the final horrifying bird attack that closes the film when – also like Melanie – it is utterly destroyed.
Credits
Director

Alfred Hitchcock

Screenwriter

Joseph Stefano (screenplay), Robert Bloch (novel)

Editor

George Tomasini

Music

Bernard Herrmann

Cinematographer

John L. Russell

Sales Company

Park Circus Limited

Cast

Anthony Perkins, Janet Leigh, Vera Miles, John Gavin