Mon Oncle
Katara Cinema, Ajyal Youth Film Series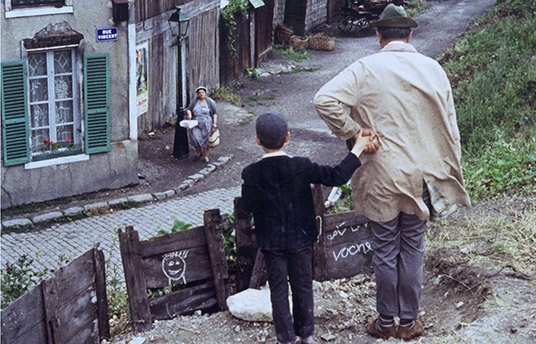 Come back soon to see screening dates
Synopsis
Winner of the Academy Award for Best Foreign Language Film in 1958, 'Mon oncle' sees the return of M. Hulot to the screen five years after his debut, this time for a series of very funny run-ins with the superficial trappings of modern life in France.

Tati lampoons the bourgeois materialism of postwar France by contrasting happy-go-lucky M. Hulot, who lives in a rundown Parisian garret, with his affluent sister and brother-in-law – the Arpels – who inhabit an impersonal, high-modern, concrete-slab bunker, complete with not-to-be-trodden-on decorative grass, unwelcoming and uncomfortable high-concept furniture, a kitchen full of new-fangled push-button gadgets so 'convenient' they are nearly impossible to use and, in a very telling running joke, a gurgling fountain that is only allowed to run for 'important' visitors.

The clue to the dissonance between these lifestyles lies in Hulot's nephew, who much prefers the company of his uncle to that of his parents and enjoys the simple, if occasionally naughty, pranks that youngsters are fond of playing. The Arpels' condescending pity for the happily penniless M. Hulot lead them to find him a job in M. Arpel's plastics factory and engage in some matchmaking with an eligible arriviste bachelorette, all of which sets the stage for Tati to engage in his customary comic genius.