Of Fathers and Sons
New Voices in Cinema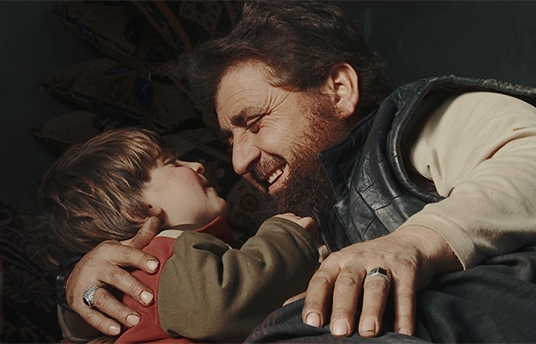 Screenings
Thu, Mar 14, 05:00 PM, MIA-A

Tickets sales closed
Synopsis
Syrian filmmaker Talal Derki returns after his Sundance prize-winning documentary 'Return To Homs' (2013) with a vivid and deeply disturbing portrait of a household gripped by extreme jihadism. For more than two years he lived with the family of Abu Osama, an Al-Nusra fighter in a small village in northern Syria. Focussing mainly on his children, the film provides an exceptionally rare insight into what it means to grow up with a father whose sole dream is to establish an Islamic Caliphate.



There are fleeting moments of tenderness between father and son, but these only serve as a stark contrast to the ever-darkening events as the film unfolds and the lives of his children are irrevocably changed. Through the journey of his two oldest sons, Osama (13) and Ayman (12), we see how all behaviour, be it compassion or hate, is passed down or learned. Capturing the lives of these vulnerable and impressionable boys as they stand at a crossroads in their development, Derki enables us to emotionally experience and understand the complex tragedy of life in war-torn Syria.



About the Director
Talal Derki was born in Damascus and has been based in Berlin. He studied film directing in Athens and worked as an assistant director for many feature film productions and was a director for different Arab TV programs between 2009 and 2011. Furthermore, he has worked as a freelance cameraman for CNN and Thomson & Reuters. Talal Derki's short films and feature-length documentaries have received many awards at a variety of festivals. His feature documentary 'Return to Homs' has won the Sundance Film Festival's World Cinema Grand Jury Prize in 2014. The same year, he was also a member of the international Jury at IDFA.
Credits
Director

Talal Derki

Screenwriter

Talal Derki

Producer

Ansgar Frerich, Eva Kemme, Tobias Siebert, Hans Robert Eisenhauer

Editor

Anne Fabini

Executive Producer

Dan Cogan, Jenny Raskin, Geralyn White Dreyfous

Cinematographer

Kahtan Hasson
Contacts
Main Contact

Tobias Siebert

Company:

BASIS BERLIN Filmproduktion GmbH

Production Company

BASIS BERLIN Filmproduktion GmbH

Email: film@basisberlin.de