When Beirut was Beirut (لما بيروت كانت بيروت)
Ajyal Competition, Made in Qatar, Ajyal at Vox, Ajyal at Katara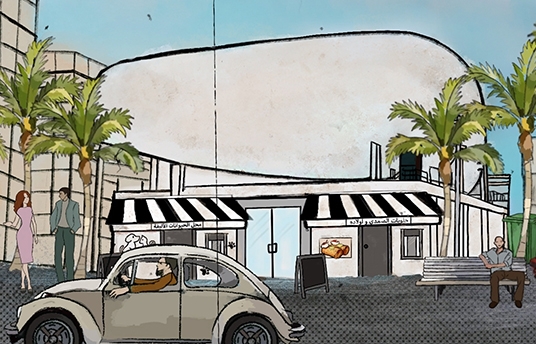 Come back soon to see screening dates
Synopsis
This poetic hybrid documentary introduces us to three majestic, abandoned buildings that witnessed Beirut's tumultuous history—coming to life through a casual conversation amongst themselves. Using animation and archival audiovisuals, this film takes us back to the Golden Era of Beirut, when the Piccadilly Theater was filled with glamorous entertainment, the Egg was bustling with people in its local markets, and Beit Beirut housed an iconic hair salon and families living under its art-deco roof. Sadly, when the Lebanese Civil War erupted in 1975, the lives of these buildings changed completely.
About the Directors
Four-time Academy Award winner Nick Park began working with the Aardman Animations studio in 1985. He is best known for his animated characters Wallace and Gromit, and Shaun the Sheep, for his 'Creature Comforts' series, and for the feature-length animated films 'Chicken Run' (2000) and 'Wallace and Gromit: The Curse of the Were-Rabbit' (2005).
Alessandra El Chanti is a Lebanese documentary filmmaker, activist, and artist. Her interests lie in the stories of the Levant, ranging from its culture, social issues, and politics. El Chanti holds an MFA in Documentary Media from Northwestern University.
Credits
Director

Alessandra El Chanti

Screenwriter

Alessandra El Chanti

Producer

Alessandra El Chanti

Editor

Alessandra El Chanti

Production Designer

Phil Lewis

Music

Joey Semaan

Sound

Marc Makhlouf

Distributor

Four Star Films

Cast

Mohamed El Chanti, Issam Younes, Laeticia Semaan