Canary
Ajyal Competition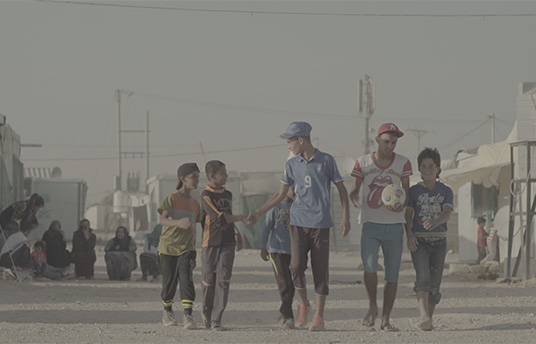 Synopsis
Canary birds are highly sensitive to their environments. Because of this, they were often used in mining as an indicator to see if the air was safe to breathe. Young Sonny doesn't like mining much, and he trains his pet canary to play dead so they can take the day off. A prank that leads to unintentional disaster in this well-crafted animated short about honesty, integrity, and friendship.  
About the Directors
Ali El Arabi is a documentary director and producer who has worked with Dream TV (Egypt), ZDF, Stern TV Germany, and National Geographic. In 2015 El Arabi set up Ambient Light—a Cairo-based production company that focuses on topics relevant to the MENA region, such as refugee displacement and women's and children's rights. His directorial debut, 'Captains of Zaatari', was at Sundance as an entry for the World Documentary Competition, and the film was named one of the best 15 films at Sundance by Variety.
PH & Ben have been directing together for over 12 years. Their short films and commissioned work have been featured at the Annecy International Film Festival (Share the Joy, IGA; Vraiment Frais, IGA; Aide Gourmet, IGA). Other accolades include Vimeo Staff Picks for 'Share the Joy', an Honourable Mention at the Queen Palm International Film Festival, 'LottoMax Bear', and a CREA Award for 'MSSS Smoke'. Their short-circuited but notable attempt at making the short film 'Outside' in 2016 led them to 'Canary'.
Credits
Director

Pierre-Hugues Dallaire, Benoit Therriault

Screenwriter

Pierre-Hugues Dallaire, Thomas Michael, Benoit Therriault

Producer

Marie-Cécile Dahan

Executive Producer

Sébastien Moreau, Jordan Soles

Cinematographer

Philippe Sylvain, Jonathan Meret

Editor

Guillaume Poulin

Production Company

Rodeo FX

Production Designer

Gabriel Gomez, Pedro Conti

Co-Producer

Michael Henrichs, Amjad Abu Alala, Aya Dowara

Sound

Iohann M.Miller

Mixing

Iohann M.Miller

Music

Iohann M. Miller

Distributor

MIYU Distribution