All Doha Tribecca Film Festival 2010 Films
Just Like Us (Just Like Us)
World Panorama - Doha Tribecca Film Festival 2010
Synopsis
Is there comedy in the Middle East? Despite there being no easy way to describe stand-up comedy in Arabic, a group of "comedy ambassadors" travel from Dubai to Beirut, Riyadh to Cairo with a double mission: to disrupt the pervasive image of Muslims as solemn, threatening, and inhuman; and to deliver some much-needed relief and laughter to the intense reality of everyday life in the Middle East. As one of the first comedy shows in the Arab world starts rolling, backstage anxiety and nerves rumble after busting open cultural taboos in each city. The comics willfully walk the line on jokes about Islam, sexuality, and body parts in hopes that, as one performer says, "If we can learn to laugh at ourselves, the rest of the world will laugh with us."

As culturally edifying as it is entertaining, Egyptian-American comic and first-time director Ahmed Ahmed's film shows us the Middle East like most Americans have never seen it before. Featuring the talented antics of Maz Jobrani, Tom Papa, Ted Alexandro, Tommy Davidson, Omid Djalili (The Infidel), Whitney Cummings, Sebastian Maniscalco, Angelo Tsarouchas, Sherif Azab, Erik Griffin, and Ahmed Ahmed himself.


About the Director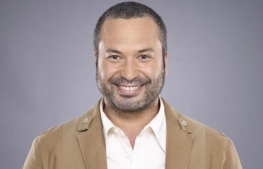 A stand-up comedian who tours the globe, Ahmed was born in Helwan, Egypt, and as a child moved to the United States where he grew up in Riverside, California. At 19, he moved to Hollywood to pursue a career as an actor-comedian and attended the American Academy of Dramatic Arts. Ahmed can be seen in films and television shows including "Iron Man," "You Don't Mess With The Zohan," "Swingers," "Roseanne," "JAG," and MTV's "Punk'd." In addition, Ahmed appears in" City of Life," the first feature to be shot entirely in Dubai, and he was the recipient of the first annual Richard Pryor Award at the Edinburgh Comedy Festival in Scotland. Along with fellow comedians Maz Jobrani and Aron Kaider, Mr. Ahmed created the "Axis of Evil" comedy tour and performed to sold-out audiences through the Middle East. Mr. Ahmed made his directorial debut with the documentary "Just Like Us," which chronicles the tour.
Credits
Director

Ahmed Ahmed

Producer

Taylor Feltner, Matthew Blaine

Editor

Benedict Kasulis & Veronica Rutledge

Director of Photography

Taylor Feltner

Composer

Omar Fadel

Cast

Ahmed Ahmed, Erik Griffin, Ted Alexandro, Maz Jobrani, Angelo Tsarouchas, Omid Djalili
Contacts