Film Chat II - The Extraordinary in the Ordinary
Jun 01, 2020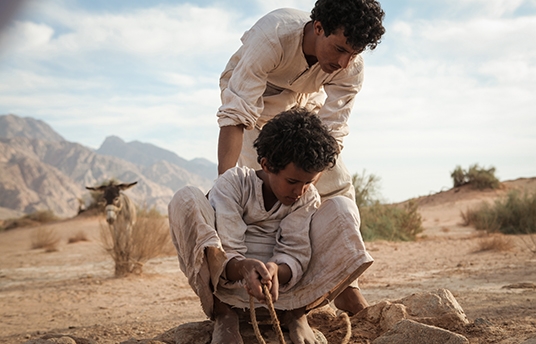 Watch films from home and then discuss online with like-minded fans!
Welcome to another exciting edition of DFI's 'Film Chat', where you can explore the fascinating world of film from the comfort of your own home. This month, we have expanded our selection of films to include documentaries, feature narratives, and animations from popular platforms like Netflix, Apple TV, and Amazon Prime.
As you may already know, each month, we suggest a thought-provoking film for you to watch beforehand and then virtually meet up to discuss everything from plot, character development and scene analysis to broader issues such as cinema history and filmmaking techniques.
For our second instalment, we proudly present the Oscar-nominated 'Theeb' by Naji Abou Nowar. To join our online discussion moderated by DFI's film programming team, all you have to do is register here now for free and watch the film before our Zoom meeting on June 11 at 7 PM (4 PM GMT). We look forward to seeing you then!
For inquiries, please get in touch with us here: filmchat@dohafilminstitute.com
---
The Extraordinary in the Ordinary
The Extraordinary in the Ordinary presents a selection of inspirational films that explore the question of what happens when history forces us to acclimate to the force of change. Through this genre-diverse selection of films, we encounter turning points with the characters' seemingly ordinary lives as they are forced to give up their ways of living or their familiar places of security and adapt to facets of a new way of life.
From a comedic trek through New Zealand's countryside to preserving beekeeping customs and the lost nomadism of the 20th century⁠—this series allows us to witness the potential of cinema in capturing things that may be endangered, lost, forgotten, or misunderstood as well as the resilience and courage of humankind.
'Theeb' by Naji Abu Nowar (2014)
In 1916, in a Bedouin encampment in the Arabian desert, Theeb and his elder brother Hussein go about their daily lives. Meanwhile, the Arab Revolt is about to change life on the Arabian Peninsula forever. When a mysterious British soldier arrives at the camp, Theeb finds himself on a more significant journey than he ever could have imagined. Employing a cast of non-professional Bedouin actors, director Naji Abu Nowar creates an affecting coming-of-age story inflected with the epic scope of a classic Western.
Rating: PG-13
Naji Abu Nowar was born in the UK and lives and works in Amman. He wrote and directed the short film 'Death of a Boxer' (2009), which screened at international film festivals in Palm Springs, Dubai and Miami. 'Theeb', his feature film debut, premiered at the 71st Venice Film Festival, where he was named Best Director in the Orizzonti section. The film also won a Black Pearl Award at the Abu Dhabi Film Festival, and Abu Nowar was named 'Variety' magazine's Arab Filmmaker of the Year in 2014.
'Theeb' is now available to watch on:
● Netflix
● Amazon Prime
● Apple TV (US store only)
---
'Leave No Trace' by Debra Granik (2018)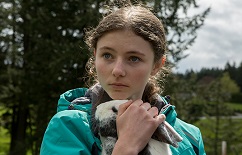 A father and daughter live an isolated and reclusive life in Forest Park, an idyllic nature reserve near Portland, Oregon. The pair only makes contact with the outside world when they need to. But when a small mistake tips them off to authorities, their bucolic life is shattered, and both are put into social services. Unable to adapt to their new surroundings, they set off on a harrowing journey back to the only place they know as home. Based on the novel 'My Abandonment' by Peter Rock, the film is a deeply intelligent and affecting story of love and survival in the wild, a mesmerizing exploration of an unexpected existence on the edge.
Rating: PG-13
Debra Granik is the director and co-writer of 'Winter's Bone', which was nominated for four Oscars, including Best Picture. Granik and co-writer Anne Rosellini were also Oscar-nominated for Best Adapted Screenplay. Her first film, 'Down to The Bone' won Granik the Best Director prize at the 2004 Sundance Film Festival. In 2015, Granik completed 'Stray Dog', a feature documentary, which aired on Independent Lens and was nominated for an Independent Spirit Award.
'Leave No Trace' is now available to watch on:
● Amazon Prime
● Apple TV (US store only)
---
'Boy and the World' by Ale Abreu (2013)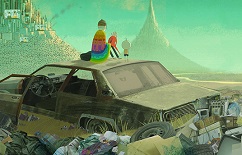 Cuca lives a happy, simple life in the countryside. One day, his father embarks for the capital in search of work, marking the end of Cuca's childhood. The boy decides to take the journey to reunite with his father, but the adventure opens his eyes to the harsh reality of a hostile world where technology and consumerism are destroying nature and human lives.Using a stunning array of techniques, and drawing inspiration from numerous modes of 19th- and 20th-century art, this phenomenal animated delight lies at the intersection of abstract and figurative painting. Winner of several international prizes, 'The Boy and the World' is an extraordinary feast for the eyes that captures the heart and the mind, tackling an eco-friendly subject with an emotional impact and visual mastery rarely seen on screen.
Rating: PG-13
Alê Abreu was born in São Paulo in 1971. At the age of 13, he made his first short film, 'Elephant Memory', at an animation workshop at the Brazilian Museum of Image and Sound. He has directed the short films 'Sirius' (1993), 'Scarecrow', (1998) and 'Step' (2007). His first feature film was 'Cosmic Boy' (2007). His most recent film, 'The Boy and the World', won several awards worldwide, including Best Film and Audience Award at the Annecy Film Festival.
'Boy and the World' is now available to watch on:
● Amazon Prime
● Apple TV (US store only)
---
'Hunt for the Wilderpeople' by Taika Waititi (2016)
Ricky is a "Very Bad Egg", or so claims frighteningly enthusiastic child-services office Paula when she drops him off with Bella and Hec – the latest in a series of foster parents for the sullen young urban "gangsta". This set-up is the boy's last chance to get on the straight and narrow before he is plucked out of the foster-care system and plonked into juvenile detention. Thanks to Bella's penchant for killing with kindness, it looks like the delinquent-in-training just might get his act together at last. But things don't exactly go according to plan in this heartwarming tale that provides a new take on the wilderness adventure story.
Rating: PG-15
Taika Waititi is a New Zealand filmmaker and actor. Waititi's most recent directing credits include the Marvel Cinematic Universe superhero film 'Thor: Ragnarok' (2017) and the satirical black comedy film 'Jojo Rabbit' (2019), the latter of which he also wrote and starred in. 'Jojo Rabbit' earned critical praise, receiving a nomination for the Academy Award for Best Picture and winning Waititi the Academy Award for Best Adapted Screenplay.
'Hunt for the Wilderpeople' is now available to watch on:
● Netflix
● Amazon Prime
● Apple TV (US and MENA store)
---
'Honeyland' by Tamara Kotevska and Ljubomir Stefanov (2019)
Deep in an isolated mountain region within the Balkans, Hatidze Muratova lives with her mother in a desolate village without electricity or running water. The last in a long line of Macedonian wild beekeepers, she ekes out a living collecting honey, which she sells at a market in the nearest city. One day, Hatidze's isolated existence is thrown into upheaval by the arrival of an itinerant family, with their roaring engines, seven rambunctious children and a herd of cattle. A strikingly beautiful and disarmingly poignant allegory about the impact of modern agriculture, 'Honeyland' is a metaphor for a wider notion of how closely intertwined nature and humanity are, and how much we stand to lose if we ignore this critical connection.
Rating: PG-15
Tamara Kotevska graduated in film directing from the Faculty of Dramatic Arts Skopje. She has five years of experience in documentary and fiction filmmaking as a freelance film director and is currently living and working in Skopje.
Ljubomir Stefanov has over 20 years of experience in the development and production of communication concepts and documentaries related to environmental issues and human development. She has worked for clients such as the UN.
'Honeyland' is now available to watch on:
● Amazon Prime
● Apple TV (US store only)
---
We hope you enjoy our 'Extraordinary in the Ordinary' series and look forward to seeing you at our online 'Theeb' discussion.
Stay tuned for more!
The DFI Team