Days in Dubai:
Mohammed and Bilal Laugh Dubai

Day 4 – Tuesday
After Monday nights workshop we went for dinner at a South African steakhouse in Jumeirah. Finished off quite late so didn't manage to wake up for breakfast on Tuesday morning.
Worked on my comedy material and did some proper work too, before going out to explore Dubai. Having had enough of malls, Amina and I decided to check out the next popular tourist attraction – water parks. We took a cab to Atlantis, a hotel resort built on Dubai's ridiculous Palm Island -a tree shaped island built on reclaimed land.
We visited the aquarium but didn't go on any water park rides. There is a huge pool filled with some 65,000 species of fish! They are all stuffed into this small space – somewhat like the some 209 nationalities squeezed into Dubai.
The absence of Arabs and masses of Indians around, also made it easy to
understand why some people think Dubai is a city in India.
We headed to the comedy venue early as we needed to be there for some filming and interviews. Took ages to get there in the ridiculous Dubai traffic and Amina and I both fell asleep in the car. The event was held in a Indian restaurant called the Spice Club – not a very big place and definitely not ideal for comedy. We did some last minute practices of our material and waited for the crowd to slowly stream in. I was placed in the middle of the line of 17 comedians. When the show just started I got a bit worried cos the crowd seemed a bit tight – but by the time I hit the stage they had warmed up quite nicely. Seeing that we were in an Indian venue, I pulled out all my best Indian jokes and they all worked really well on the crowd. I was given really good feedback by Dean and the other comedians, so I had high hopes that I would be asked to perform on the following day's show with them. But unfortunately I need to get back to Doha and work, so going to have to give this shot a skip and look forward to better opportunities in the future. See my facebook page for pics and clips: http://facebook.com/HalalBilal
Day 3 – Monday
We had another late morning after a tiring workshop and extremely late dinner the night before. Our third day in Dubai started off just like the first two – woke up, had breakfast and went to the mall:)
Every mall has something ridiculous about it – the Mall of the Emirates has a huge indoor snow slope for skiing! You would never expect to find so much snow in the middle of a desert, but that's Dubai.
Amina wanted to do some shopping so I had to accompany her to make sure she didn't spend too much of my money! A few hours later – and quite a few Dirhams less – the marathon spree ended and I prepared for the workshop with Dean.
The DFI film crew did some filming with us – there's hopefully an interesting story to be told about the rise of stand up comedy in the region. Dean spoke about sketch writing and how one can grow from stand up to TV, using sketch. He also spoke about the ethics of comedy and how important it was for a comic to protect and grow his image.
The participants then performed and the improvements in most of them was quite impressive. I tried out some new material and got good feedback – but I think I'm going to stick to old material for Tuesday nights show…
Day 2 – Sunday
Started off the day quite late as we needed to recover from the world's longest workshop the night before. We all met up with Haji, a friend from London who did comedy with me a few years ago – he now works as a banker and moonlights as a tour guide when friends come to town.
He showed us all the sights of Dubai – dozens and dozens of skyscrapers – he finally dropped us off at the worlds biggest tower, Burj Khalifa. Its ridiculously long and it has an annoying ability for sane people to take idiotic pictures with it in the background. We did some shopping and then watched the water show, which in comparison to the tower was really short.
Met a guy named Aladdin who works in Dubai mall, a naturally funny guy who speaks a dozen different languages – quite a useful talent when you learn that Dubai has over 200 nationalities living here.
Headed to the workshop with Dean Obeidalla who gave us some good tips on the structure of comedy. We then sat through a marathon comedy session with 20 comedians performing back to back. Dean and others gave everyone feedback on how to improve and the workshop will continue tomorrow.
Day 1 – Saturday
Having just unpacked our bags after the Amman Comedy Festival, we did a huge load of laundry and packed our bags again for Amman. I worked a overnight shift Friday and only got home in the early hours of Saturday morning.
Amina had everything packed and ready to go, and Mohammed gave us a ride to the airport. I hoped that there was going to be no visa or passport issues this time – it seemed that every time there was comedy related travel, some story happened that gave us loads of good new material!
I got Mohammed and Amina into the lounge, so we had breakfast while we waited for our flight. Ayse (our liaison/producer) called to check where we were – so I had a bit of fun with her and said that we were being held up by security! She totally freaked out.
The flight was super quick – the moment the plane finishes its ascent, it begins the decent – you keep your seatbelt fastened the whole way!
Took us ages to get visa's at the airport and get out through security, but I was lucky to have a Qatari who collected my bags for me and got me a taxi:) Not everyday that a Qatari does that for a South African Indian:)
Taxi drivers in Dubai are useless – we got lost on the way to our hotel, and then after checking in and rushing to the comedy venue, we got totally lost trying to find the place. I guess it was not really the taxi drivers fault – the venue was squeezed in between truck warehouses and garages!
Meena and Ali were super excited to see us, SUCQ comedians from Qatar, and they had a really nice group of Dubai comedians, from all over the world.
The workshop was good, but tiring, and we got loads of exercises to prepare and practise. I'm going to concentrate on that now, and once I'm done will have more feedback to share from it. Watch this space:)
Days in Jordan during "Amman Stan-Up Comedy Festival" :
Day 4 – Sunday
Woke up a bit under the weather, caused by the weather. (That means i was feeling sick, if you didn't get it!) The hot during the day and cold at night took a toll on my body. So had a slow day- went out with Amina to get some food, and stopped at a pharmacy to get some drugs.
It's absolutely amazing how many pharmacies there are in this city. Almost every street seems to have at least one, if not a dozen!
Spent most of the day at a coffee shop populated by the hip and happening youth of Amman. Then tried to get a taxi back to the hotel, but nobody wanted to take us! The cabs all stop and ask where we wanted to go, and then said no, they were not going that way! I got fed up after it happened a few times, so told the next guy that stopped to take us wherever HE was going!
Eventually got back to the hotel and then prepared for my performance and made sure I was well rested. Got to the venue and hung out backstage with the other comedians.
The audience started filling up nicely and the crowd seemed nice:) I made sure my set was well practised and added in an Arabic joke- it worked really well with the audience, and so did the rest of my routine! Was really pleased with my performance and all the other acts
gave me good feedback too! Spent a long time meeting and greeting fans, and by the end of the night my vision was blurry with all the camera flashes. But thats what it takes to say thanks to all the amazing fans!
Day 3 – Saturday
On previous trips to Amman, I had always had chance to sample the delicious Arab breakfasts – hummous, falafel and fool. Rounded up with sugar water the colour of tea:)
A great way to start the day and build up energy reserves for the plans ahead. First up we had opportunity to discuss the business side of comedy with experienced comedians and organisers that were attending the festival.
It is no joke when they say that stand up comedy is actually very serious business. And like any successful businessman will tell you, having good contacts is vital. We met some big names and exchanged contacts and ideas.
In a region where comedy is still in its infant stages, the job is two-fold for us: to develop our own comedy, and also to introduce and educate people to the art form itself. The frustrations of Jordanian comedians were echoed by those from Saudi and Qatar, but one thing was agreed: we all need to collaborate and to try and put on regional tours and shows, as well as continuously auditioning for all the comedy festivals all over the world.
Back at the hotel we met Ibrahim from Saudi – he is one of the pioneers of comedy in the country (like us in Qatar!) and he gave us the low down on the good, bad and ugly in the wild world of stand up comedy. Once again, as Aron kept telling me – stand up comedy is serious business.
Mohammed did an awesome set for a really friendly Amman audience – his performance was up there with all the big names for the night. I'm really psyched for my big show on Sunday night!
Day 2 – Friday
Having had a hectic day getting to the auditions and a late night after exploring downtown Amman and trying out the awesome fruit juices and amazing kanafa (Arabic sweet dish), Amina and I slept in till late.
We managed to make it to the Mosque just in time for the Friday prayer, and I noticed that my long hair and beard attracted lots of inquisitive stares. People on Facebook and Twitter thought that maybe I looked like Jesus, but I'm not sure about that:)
After prayer Amina and I sampled some delicious Falafel sandwiches near the transport hub called Abdali, and then we explored Amman by foot. Like more of the Arab world, Friday's are the start of the weekend in Jordan so the streets were quite quiet.
By the time we reached the old city the streets had begun to fill up, but we had to head to the comedy workshop being held by Dean and fellow comedian Aron Kader. They gave us tips about doing comedy – see twitter.com/SUCQatar where Amina live tweeted the workshop.
Mohammed and I both had opportunity to perform after the workshop and get feedback from Dean and Aron. I had tried out a mixture of new and old material, and the feedback they gave me was quite useful.
We met Hamza, a local comedian who just started out, and he invited us to perform at an Open Mic event that he arranged. The venue was packed with young Jordanians by the time we arrived there, and they were ALL smoking! As the experienced comedians had warned us earlier – sometimes you need to perform in really difficult environments – where people are talking, waiters are taking order and bringing people food, and Sheeshas are being smoked and topped up!
Hamza did a great job of warming up the audience, and Mohammed had good laughs, after adapting his material to a new audience. By the time I got called up the audience was nice and settled. I had a really good set, enjoying it totally myself, which is often a good indication of how things are going.
With opportunities like this being created by young comedians, comedy has a promising future in this country. Talking to Hamza made me realise that even though things are quite different in Amman and Doha, the struggles we face in growing comedy in the region are quite similar. The contacts we make on this trip will be a great asset in helping us support each other to take this to the next level!
Day 1 – Thursday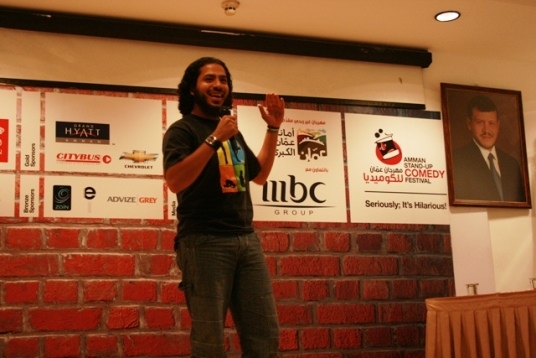 Airplane tickets – check, hotel reservation – check, clothes and toiletries packed – check, social media plans – check, but most important thing: jokes for the Amman Comedy Festival, oops – haven't had time to work on that yet. This is how I woke up at 4am in the morning, to catch the early flight to Amman from Doha, via Bahrain, so that we could make it for the auditions.
Mohammed Fahad Kamal, the other SUCQ (Stand Up Comedy Qatar) comedian that was joining me on this adventure, picked me and Amina (my wife and agent) up and we headed to the airport. As luck would have it, Mohammed was turned away from the flight because his passport was about to expire – for someone who jokes so much about cancelling peoples visa's, this was quite ironic, but also sad. But I guess his relations with the Qatar immigration department were quite good, because just as we landed in Amman, he called to say that he had a new passport and was leaving on the next flight.
We met Dean Obeidallah, executive producer of the festival and famous comedian, at the auditions. I had managed to work on my material on the super-short flights, partly cos we had comfy Business Class seats that we had been upgraded to!
The auditions were quite relaxed – most of the comedians performed in Arabic, but those who did English performances were quite good and clearly well practised. Yousef looked familiar – I just couldn't place where I saw him before – so when I went online, I went back to the clip that DFI did about me and the Doha Tweetups – he was the opening clip on that video!
Mohammed and I however did a good enough job to impress the judges and we were both offered spots in the festival!
About Bilal
Bilal Randeree is an amateur comedian from South Africa, who uses humour to bridge gaps of bias, intolerance, and other social ills that exist around the world today.
At university Bilal picked up the title 'Halal' due to his particular take on fun: always good and clean. He qualified as an accountant and then came to the realization that life was way too short to be boring and rich. He switched careers and became a journalist – which quickly erased any chance of him becoming rich – but made him aware that Muslims had tons of coverage in the media, but often not for very good reasons.
With his comedy, he tries to set that straight by both, clearing up misconceptions of Muslims in the media, and by trying to be a good Muslim in media. His dream is to join a big name comedian on a World Tour (or he'll settle at a Middle East Tour)and spread laughter and happiness, while destroying hate and falsehood.