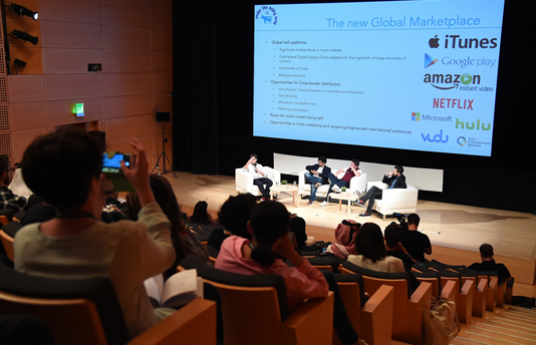 Region's leading film and entertainment companies discuss the future of distribution and the reality of online platforms
Doha, Qatar; March 6, 2017: Qumra Talks, a new initiative at the third edition of Qumra, the industry event by the Doha Film Institute, kicked off with the first session focusing on International Digital Distribution and Marketing.
Pierre Alexandre Labelle, CEO of Under the Milky Way; Gianluca Chakra, Managing Director, Front Row Filmed Entertainment and Nader Sobhan, Iflix head of Middle East and North Africa, came together to give their take on the direction of digital film distribution and whether the potential power of online distribution for independent filmmakers had been hyped or is a much-needed reality.
Pierre Alexandre Labelle took attendees through the basics of Video on Demand (VOD), the role of the digital distributor and different models of digital distribution. Speaking of the value that digital distribution offers filmmakers, Labelle said: "Video on Demand is the present and future of entertainment. This is the way the industry is evolving. Packaged media, DVDs etc., are fast disappearing. Traditional distribution channels, such as movie theatres, give filmmakers a limited audience with the constraints of time and space while VOD allows for tens of thousands of films to be available all the time."
Discussing the way in which people watch entertainment now, Nader Sobhan added: "I can't remember the last time I ran home to watch TV. No one does this anymore. There's been a seismic shift to how we watch entertainment. We no longer have to wait, we can watch films and TV shows through a multitude of platforms and devices. Iflix gives people an all-you-can-eat entertainment platform where they can binge on the films and TV shows they want."
Adding to the argument for filmmakers to harness the power of digital distribution channels, Gianluca Chakra said: "Now that you have many different ways of distributing your film, you have more ways for people to see your film. Filmmakers can find new audiences, or indeed 'their' audience."
The discussion also covered the marketing of film on digital distribution platforms, whose natural ally Is social media. The panel highlighted platforms such as Facebook and Instagram, which allow distributors and producers to reach a highly targeted audience.
Organised in partnership with the Northwestern University in Qatar, Qumra Talks is a series of three specially curated discussions, open to the public. It brings together leaders from the film, TV, technology and online worlds to offer new perspectives into areas that are redefining the film and media ecosystem.