Out/In the Streets
Spring Grant 2013 - Production Stage
Current project status: Production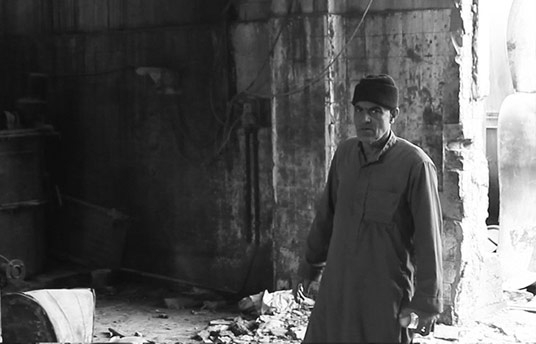 Synopsis
This is a film about a community in revolt. 'Out/In the Streets' will feature workers of the shutdown Glucose and Starch Factory from the neighbourhood of Turah in Cairo staging a performance inspired by their struggles and stories. The film will interlace documentary and theatre to approach revolutionary Egypt from the precarious perspective of workers, beyond the factory's heavy gates, frozen assembly lines and rusty machines. The moving image has the power to awaken and strengthen revolutionary consciousness, relocating participants and spectators within the social struggle. Yet, this is not only a film. Through public performance in the neighbourhoods of the workers, we will open up a new public space for discourse, for engagement with the issues that plague a community struggling under the policies of capitalism that exclude people for the sake of the bosses, banks and rulers. We want to challenge both the visual discourse of the role of workers in film as well as the dominant narrative of who makes up this revolution in Egypt.
Credits
Director

Jasmina Metwaly, Philip Rizk

Screenwriter

Jasmina Metwaly, Philip Rizk

Producer

Mostafa Youssef
About the Director
Jasmina Metwaly is an artist and filmmaker based in Cairo, a co-founder of and a member of the Mosireen video collective (mosireen.org). She studied painting in Poznan, Poland, where she focused on time-based work with strong correlations to painting. She is interested the points of intersection and division among single-channel image, video and documentary filmmaking. Since January, 2011, Metwaly and Philip Rizk have been working together on a series of short documentaries about the January 25 Egyptian Revolution. Works featuring the role of workers as main protagonists include 'These People Are Not Leaving: The Mahalla Workers in the Egyptian Uprising' (2011) and 'We Were Imprisoned in Our Clothes – The Workers of Turah in the January 25 Revolution' (2011). Since January 2011, Metwaly has been involved with the No to Military Trials on Civilians campaign. Her work has been exhibited at international art venues and festivals including the Townhouse Gallery, Cairo (2010), Cairo Documenta (2010/2012), the Berlin Biennale (2010) and the International Film Festival Rotterdam (2012).
Contacts