Late to Die Young
Fall Grants 2017 - Post-Production Stage
Current project status: POST-PRODUCTION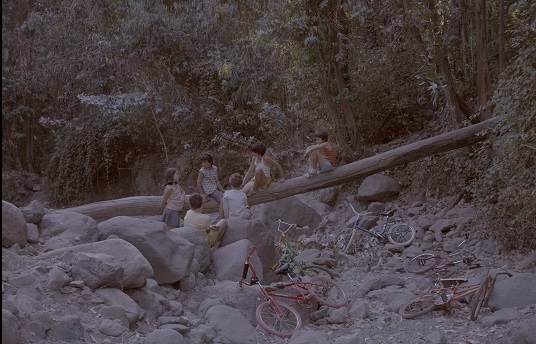 Synopsis
The summer of 1990 in Chile. A small group of families live in an isolated community right below the Andes, between dry dirt roads and dusty trees, building a new world away from the excesses of the distant city. Neighbors Sofía (16) Clara (10) and Lucas (16) struggle with their parents, first loves, and fears, while they prepare a big party for New Year's Eve with hope for some new beginnings. 'Late to Die Young' is the portrait of a group of people who try to isolate themselves from the dangers of the city, but are instead confronted by those of nature.
Credits
Director

Dominga Sotomayor

Screenwriter

Dominga Sotomayor

Producer

Rodrigo Teixeira, Dominga Sotomayor, Omar Zúñiga
About the Director
Dominga was born in Santiago de Chile in 1985. Her first feature film, 'Thursday Till Sunday' (2012), was developed at the Cannes' Cinéfondation Résidence and won the Tiger Award at Rotterdam, and received awards at IndieLisboa (Best Film), New Horizons (Gran Prix Best Film), Valdivia Film Festival (Best Film). She co-directed 'The Island' (2013), obtaining the Tiger Award at Rotterdam. In 2015, she premiered internationally her mid-length 'Mar' in the Forum section at the Berlinale, and also 'Aqui, Em Lisboa', a collective film with Marie Losier, Gabriel Abrantes and Denis Côté.
Production Company Profile
CINESTACIóN is a creative platform for auteur filmmaking in Latin-America. With a growing catalogue of films and directors, we tell stories with strong points of view, collaborating with global partners and supporting audacity and quality. We have produced Rotterdam Tiger Award winner 'Thursday Till Sunday' (2012) by Dominga Sotomayor, Berlinale Teddy Award winner 'San Cristóbal' (2015) by Omar Zúñiga, 'Mar' (2015) by Dominga Sotomayor, premiered in Berlinale Forum, among multiple other films. Our work has been recognized by world-class film festivals, like Berlinale, Cannes, Rotterdam, Valdivia and Sundance. Producing with CINESTACIóN means working together as a team, with dialogue and professionalism.
Contacts