The Normal Way
Spring Grant 2013 - Development Stage
Current project status: POST-PRODUCTION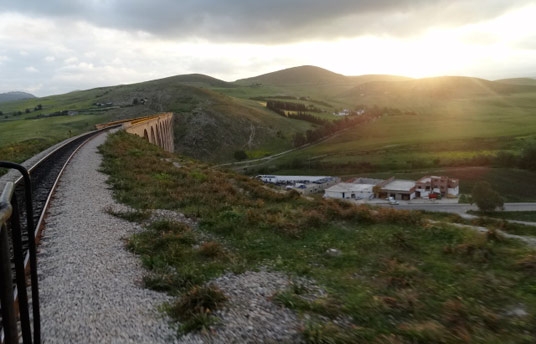 Synopsis
In this road movie set to the rock tunes of Pink Floyd and the jazzy sounds of Anouar Brahem intertwined with constant train noise, 30-year-old Ahmed, a train driver, tells us of his winter trip, his desire to become someone else, his escape. As we leave the classy neighbourhoods of Tunis and head toward the Algerian border, we get to know his companions, friends lost after the revolution, and a Tunisia facing itself. In a tone that is neither too serious nor too dramatic, yet steeped in social criticism, 'The Normal Way' takes a look at a generation on the go.
Credits
Director

Erige Sehiri

Screenwriter

Erige Sehiri

Producer

Palmyre Badinier
About the Director
Tunisian-French director and journalist Erige Sehiri trained as a documentary filmmaker in Montreal. In France, she has directed several short documentaries and has worked on a regular basis from Jerusalem as an independent journalist for France 24, France 3 and Radio-Canada. 'My Father's Facebook', her first creative documentary, was her contribution to the award-winning collective documentary 'Family Albums' (2012). Since 2011, she has actively contributed to the structuring of the citizen journalism with Canal France International and the Nawaat Website in Tunisia. Sehiri is developing her first fiction project through her selection in the Méditalents programme.
Production Company Profile
Based on their 10 years of production experience in the Middle East through the Ramallah-based production company Dar Films, Raed Andoni and Palmyre Badinier established Les Films de Zayna in Paris in 2008. Zayna develops dramatic and documentary projects for cinema, television and new media based on close collaboration among writers, technicians and other talents, mainly from the Arab world and Europe. The company's films have been broadcast, released theatrically and selected for major international film festivals including Sundance and the Festival de Cannes. Zayna's documentary filmography includes Nassim Amaouche's 'En terrain connu' (2013), which premiered at the Clermont-Ferrrand International Short Film Festival; the omnibus film 'Family Albums' (2012), which had its premiere at Cinemed, where it won a special mention; and Raed Andoni's 'Fix Me' (2009), which won several awards, including a Golden Tanit at the Carthage Film Festival and the Human Rights Award at BAFICI, and was named Best Documentary of the Year by SCAM in 2011. Zayna is currently producing Erige Sehiri's Tunisian documentary 'The Normal Way', and is developing Andoni's upcoming 'Ghosts Hunting'.
Contacts