The Mourning Forest (Mogari no mori)
Modern Masters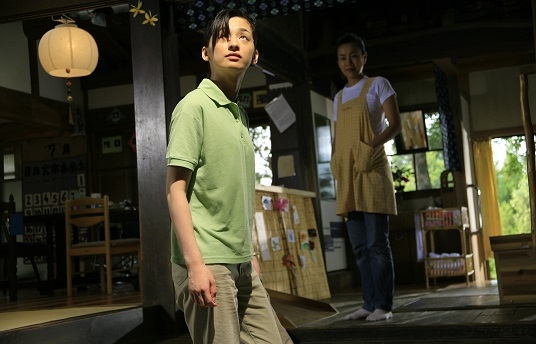 Screenings
Sun, Mar 6, 07:00 PM,

MIA-A

Tickets sales closed
Synopsis
Machiko, a young nurse, has just taken on a new job as a carer at a retirement home, where the residents are quietly edging their way into dementia. Among them is Shigaki, with whom Machiko slowly develops a close bond after some initial adversity. While Machiko privately mourns the death of her young son, Shigaki openly continues to miss his late wife, who died nearly 33 years ago. He is especially moved at this time, as he is desperate to bid his beloved a last farewell.

As a birthday treat, Machiko takes Shigaki out for a drive. When the car goes off the road, Machiko goes for help, but Shigaki wanders off into the beautiful, at times treacherous forest, seemingly in search of his wife's burial site. Machiko follows, but the pair become lost and must spend the next two days battling with Nature and their personal distress.

With 'The Mourning Forest', director Naomi Kawase returns to her signature themes of broken families, lost loved ones, nature and mourning, in a work that is quietly moving and punctuated with moments of childlike joy. The liberal use of a handheld, observational camera gives the film an extraordinarily naturalistic and intimate feel as we accompany two tormented souls on a journey to peace.
About the Director
Born and raised in Nara, Japan, Naomi Kawase graduated from Visual Arts College Osaka in 1989. Her medium-length documentaries 'Embracing' (1992) and 'Katatsumori' (1994), both of which are intimate looks at her own family, received international recognition and both won awards at the Yamagata International Documentary Film Festival in 1995. With her first narrative feature, 'Suzaku' (1997), a look at the impact of the economic decline in rural Japan, Kawase became the youngest filmmaker to receive the Caméra d'Or at the Festival de Cannes. She went on to win the Grand Prix at Cannes for 'The Mourning Forest' (2007), the story of a friendship between a retirement-home nurse and one of her charges, and was awarded the Carrosse d'Or of the Directors' Fortnight at Cannes to acknowledge her lengthy filmography of daring and demanding work.

Kawase returned to Cannes in 2011 with 'Hanezu', based on the novel by Masako Bando, and in 2013, she sat on the jury of the Official Competition at Cannes. In 2014, she was again in the Official Competition at Cannes with 'Still the Water'. Her most recent film, the award-winning 'An' (2015), opened the Un Certain Regard section at Cannes and is familiar to Doha audiences from the 2015 edition of the Ajyal Youth Film Festival. Starring two of Japan's most-renowned actors, Kirin Kiki and Masatoshi Nagase, the film is a delicate, tender story of two wounded souls who inspire each other to let go of the past.

Besides being a filmmaker, Kawase founded and is Executive Director of the Nara International Film Festival. In 2015, she was bestowed with the Chevalier de l'Ordre des Arts et des Lettres by the French Minister of Culture.
Credits
Director

Naomi Kawase

Screenwriter

Naomi Kawase

Producer

Naomi Kawase

Editor

Yuji Oshige, Tina Baz

Associate Producer

Christian Baute, Shunji Dodo

Production Designer

Toshihiro Isomi

Executive Producer

Hengameh Panahi

Music

Masamichi Shigeno

Cinematographer

Hideyo Nakano

Sales Company

Celluloid Dreams

Production Company

Kumie Inc., Celluloid Dreams Productions, Visual Arts College Osaka

Sound

Shigetake Ao, David Vranken, Vincent Mauduit

Cast

Shigeki Uda, Machiko Ono, Makiko Watanabe, Yoichiro Saito, Kanako Masuda