Star Trek: The Motion Picture
Katara Cinema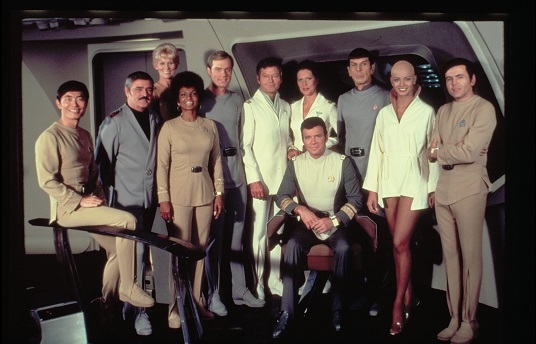 Screenings
Tickets sales closed
Synopsis
For the legions of fans of the television series 'Star Trek', one of the most exciting moments in the history of motion pictures was the first appearance on the big screen of the beloved USS Enterprise. And what a moment it was. Lovingly viewed from just about every possible angle as it emerges from its space dock, the new and improved ship is truly something to behold.

As the film begins, we hear that the craft has undergone 18 months of redesign and refitting. Now, an alien entity cloaked in a massive energy cloud is on a collision course with Earth, so the Enterprise must be ready for battle in a mere 12 hours. Former captain – now Admiral – James T. Kirk takes control of the ship, reassembles his customary crew and leads them on a mission to save our planet.

The colossal 'Star Trek' franchise includes several film and television series, which injected into the collective consciousness notions like warp drive and teleportation,
and introduced us to Mr. Spock and his abiding phrase "Live long and prosper." More than that, 'Star Trek' has long been celebrated for its humanistic and hopeful look forward to a more ethical and compassionate future for our species. This first foray into cinema was a wonderful addition to the 'Star Trek' legacy.

This film is presented with English subtitles only.

About the Director
Born in 1914, Robert Wise was one of the most influential American film directors and producers of the 20th century. His lengthy filmography includes 'The Day the Earth Stood Still' (1951), 'The Desert Rats' (1953), 'Somebody Up There Likes Me' (1956), 'I Want to Live!' (1958), 'West Side Story' (1961), 'The Haunting' (1963), 'The Sound of Music' (1965), for which he won the Academy Award for Best Director, 'The Andromeda Strain' (1971) and 'Star Trek: The Motion Picture' (1979). He died in 2005.
Credits
Director

Robert Wise

Screenwriter

Harold Livingston

Producer

Gene Roddenberry

Editor

Todd C. Ramsay

Music

Jerry Goldsmith

Cinematographer

Richard H Kline

Cast

William Shatner, Leonard Nimoy, DeForest Kelley, James Doohan, Nichelle Nichols, George Takei, Majel Barrett