Solaris
Katara Cinema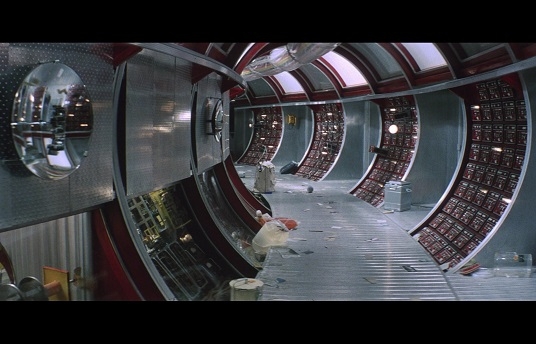 Screenings
Tickets sales closed
Synopsis
Widely considered to be among the greatest films in the history of cinema, Andrei Tarkovsky's 'Solaris' tells the story of a group of cosmonaut scientists who are examining a remote – and sentient – planet. After decades of essentially fruitless observation of the planet's surface sea from a nearby space station, the scientists on board begin sending incomprehensible messages to Earth; psychologist Kris Kelvin is dispatched to evaluate the situation.

Kris discovers the crew in a state of extreme paranoia that has arisen from the psychological effects of their proximity to the psychoactive planet, which in its turn appears to be observing these human specimens by examining – or perhaps preying upon – their fears and insecurities.

Tarkovsky's approach to his spaceship sets is in stark contrast to that of Stanley Kubrick's for '2001: A Space Odyssey' (1968). Solaris Station is dark, dingy and often dirty – more rough-and-ready than state-of-the-art. The personal quarters of the inhabitants have the lived-in feeling of the unkempt bedroom of a lazy teenager – a disturbing reminder of their anguished mental state. Pensive, brooding and existentially unsettling, 'Solaris' is a brilliant and moving treatise on the difficulty of communication, not only between sentient beings of different species, but among all of humanity.

About the Director
Born in 1932, Andrei Tarkovsky was a Soviet writer, film editor, film theorist, theatre and opera director, and is widely regarded as one of the best filmmakers in the history of cinema. His highly influential narrative feature-length films are 'Ivan's Childhood' (1962), 'Andrei Rublev' (1966), 'Solaris' (1972), 'The Mirror' (1975), 'Stalker' (1979 ), 'Nostalghia' (1983) and 'The Sacrifice' (1986). His films are notable for their metaphysical themes, a lack of conventional dramatic structure and distinctive use of cinematography, the methodology of which he discussed in his book on filmmaking, 'Sculpting in Time'. He died in 1986.
Credits
Director

Andrei Tarkovsky

Screenwriter

Fridrikh Gorenshteyn, Andrei Tarkovsky, based on the novel by Stanisław Lem

Producer

Vyacheslav Tarasov

Editor

Lyudmila Feyginova, Nina Marcus

Music

Eduard Artemev

Cinematographer

Vadim Yusov

Cast

Natalya Bondarchuk, Donatas Banionis, Jüri Järvet, Vladislav Dvorzhetskiy, Nikolay Grinko