Alice in Wonderland
DFI Cinema

Screenings
Free screening Limited capacity
First come first served
Synopsis
In this film inspired by Lewis Carroll's much-beloved 'Alice's Adventures in Wonderland' and its companion piece, 'Through the Looking Glass and What Alice Found There', Alice is 19 and unwittingly arrives at her own engagement party. Uncertain she cares for the buffoonish lord who seeks her hand, she excuses herself to chase after a white rabbit in a waistcoat, then falls down a rabbit hole and finds herself smack in the middle of an ongoing struggle between the Red and White Queens. Everyone seems to expect that, when the Frabjous Day arrives, Alice will show her heroism – but will she be able to slay the Jabberwock with the Vorpal Sword?
Guided by the well-known characters from Carroll's books, among them Tweedledum and Tweedledee, the March Hare, the Dormouse, the Cheshire Cat, the hookah-smoking Caterpillar and of course the Mad Hatter, Alice gathers the strength she needs to choose her own destiny.
About the Director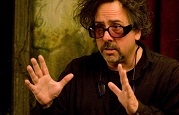 Born in California, Tim Burton spent most of his childhood as a recluse, drawing cartoons, and watching old movies. After graduating from high school, he attended the California Institute of the Arts. His first job was as an animator for Disney. Recognising his talent, Disney gave him the green light to make 'Vincent' (1982), an animated short about a boy who wants to be like Vincent Price. Narrated by Price himself, the short was a critical success and won several awards. Among his many celebrated films are 'Pee-Wee's Big Adventure' (1985), 'Beetlejuice' (1988), 'Batman' (1989), 'Edward Scissorhands' (1990), 'Mars Attacks!' (1996), 'Planet of the Apes' (2001), 'Big Fish' (2003) and 'Charlie and the Chocolate Factory' (2005).
Credits
Director

Tim Burton

Screenwriter

Linda Woolverton, Lewis Carrol

Producer

Joe Roth, Jennifer Todd, Suzanne Todd, Richard D. Zanuck

Cinematographer

Dariusz Wolski

Sales Company

The Walt Disney Company

Production Company

The Walt Disney Company

Distributor

Italia Film

Cast

Johnny Depp, Mia Wasikowska, Helena Bonham Carter, Anne Hathaway, Crispin Glover