Series Lab
Series Lab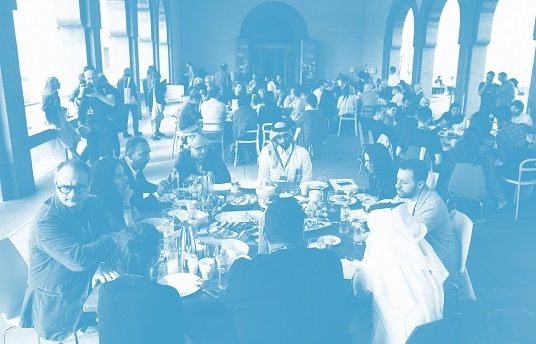 Start date:

Oct 12, 2017

Ability Level:

Intermediate to Advanced
This lab is based on the IFP Screen Forward Labs, whose third edition was held in New York in April, 2017.
Working in partnership with the IFP, the Web Series lab is meant to discover and foster new talents working with serialised content in Qatar and other MENA countries.
The Lab is a private programme dedicated to teams working on innovative serialised scripted projects created on all platforms and formats including, but not limited to, television and web series, VR, or app-based work (Instagram, Snapchat, etc). The goal is to support the teams of creators by brainstorming development and execution strategies that can bring their projects out into the world and to the viewers who seek independent and diverse voices in storytelling.
The intensive one-week 'bootcamp' programme takes place in Doha and focuses of the main aspects of working on a serialised project, from development all the way to distribution. Attendees gain a deep knowledge of the state of the industry by attending workshops, panels and case study discussions led by experts. Breakout sessions allow for a more informal discussion and elaboration of ideas in groups.
---
Dates: 12 to 16 October
Application Deadline: 24 September
Hours: 9:30 AM to 6:00 PM
Language: English
Lab Fee: 2,000 QAR
Level: Intermediate to Advanced
Group Size: 8 – 10 projects will be selected with a maximum of two attendees per project
---
Eligility
The workshop is designed for digital creatives, producers, writers, directors, or anyone interested in scripted serialized projects created on TV and web series, or app-based platforms
Candidates must have a fiction or non-fiction project in development with a director/screenwriter/producer associated to the project
Candidates should have produced at least one short or feature-length narrative or documentary film in the past
Candidates must be Qatari nationals or residents of the

MENA

Region
Candidates from the

MENA

region are responsible for funding their own travel and accommodation
---
Submission Requirements:
Please send the following in Word or PDF format to training@dohafilminstitute.com
Please include your full name, email and contact number in all text documents
Short synopsis of the project in development (maximum one page)
Long synopsis
Treatment of the film – visual concept (mood board, story board) or any visual representative that have already been executed if available
Résumé and short biography of the Director, Producer, Writer or any members of the team associated with the creative development of the project
Script (if available)
Detailed information about what is required for the project's development
A letter outlining why you want to participate in this workshop
Any of the following, if available/applicable – Provisional budget and financing plan (in

USD

) – Technical specifications, including filming locations – Current state of the project (please note any secured professionals, possible co-producers, attached talent or other potential partners) – Director's statement, covering project virtues (one page maximum) – Stills, concept art, mood boards etc. – Links to teasers, trailers, demo reel or samples of previous work of both the director, producer and/or creative developers
---
PROGRAMME

Introduction to the main aspects of the television, digital and serialised content landscape
How to develop and fund a serialised project, including crowdfunding, and working with production companies and platforms
Developing tools to build a community and engage with audiences, including the use of social media
Understanding of the distribution possibilities in the marketplace, from digital platforms to networks
Knowing the episodic festivals where content can premiere
Pitch training, consisting of in-depth, tailored strategies on how to pitch at markets and how to pitch to specific industry players
---
Daily Schedule
Day 1 – Development and Goals: dedicated to understanding the main goals of the projects and the as independent filmmakers and content creators. The goal of the day is to define the next steps for each project according to stage of development and needs.
Day 2 – Funding: all the possibilities available for funding a serialised scripted project. Includes case studies of successful crowdfunding series, workshops on how to work with production companies and platforms, and how to work with agencies and managers. The goal of the day is to generate production strategies tailored to each project.
Day 3 – Audience Engagement and Marketing: how to build a community and reach audiences, via social media, digital channels and other platforms. The goal of the day is to explore the audience potential of each project via one-to-one sessions, and to understand how to brand attendees as filmmakers and content creators for long-term career sustainability.
Day 4 – Festivals & Distribution: gaining familiarity with the episodic festivals in the USA and around world where a series might be premiered, and the benefits of participating in festivals and their markets. On the distribution side, the goal of the day is to study in-depth the different kinds of distribution platforms, from digital to traditional networks in order to develop awareness not limited to the projects participating in the programme.
Day 5 – Pitching: learning the ABCs of the pitch, and how to pitch a series project in different scenarios, including the elevator pitch. The goal is to create the best possible presentation for each project, learning how best to present it in formal meetings and during networking events. This includes how to define the nature of a project and how to use proper language. Another goal of the day is to learn how to use the pitch as a tool to confirm goals and define next steps and strategies.
---
MENTORS TO BE ANNOUNCED SOON
---