Now Playing in Doha! : Madagascar 3: Europe's Most Wanted
Jun 14, 2012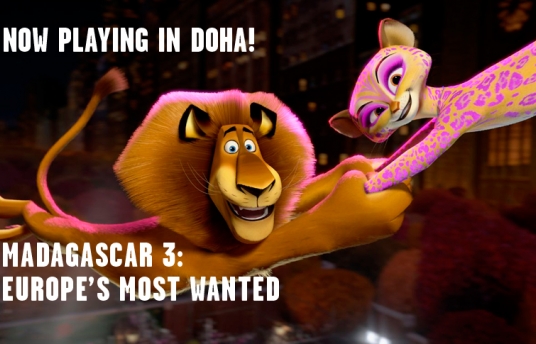 Written by Anealla Safdar, Digital Department, DFI
Film: Madagascar 3: Europe's Most Wanted
Year: 2012
Director: Eric Darnell
Genre: Animation
The French are cruel and lazy, the British feisty and Italians dawdle too much. Or at least that's what your children might think after watching 'Madagascar 3: Europe's Most Wanted', the latest box office hit from DreamWorks Animation.
Leading lion Alex (Ben Stiller) and his urbanised furry friends are still desperately trying to flee Madagascar, return to the Big Apple and live in their beloved zoo. Their journey suddenly halts in Europe, where the delectable and villainous French animal-control official Captain Chantel DuBois delights in the opportunity to behead Alex. Relentlessly she pursues him, Marty the zebra (Chris Rock), Melman the giraffe (David Schwimmer) and Gloria the hippo (Jada Pinkett-Smith) across several countries.
The breathtaking chase takes us thorough Monaco, Switzerland, France, Italy and the UK with many droll observations made along the way. "Labour laws are more lenient in France, they only work two weeks a year," says a chimpanzee.
To hide from DuBois and her minions, the foursome, plus some new additions, blag their way into a circus group filled with has-been animal performers who are also on their way to New York. Not only is it a city named twice, but one where we are honoured with two bass-pumping renditions of Katy Perry's 'Firework'.
There are plenty of rambunctious characters, hilarious one-liners, love stories and the mandatory moral messages associated with the genre.
The number of celebrity voices is well over a dozen including Sacha Baron Cohen, Cedric the Entertainer, Jessica Chastain and Vinnie Jones.
Comedian Chris Rock as Marty outshines them all. His 'Afro Circus' remix of Julius Fucik's 'Entrance of the Gladiators' is a definite musical highlight and will play on repeat, in your head way after the credits end.
This year has seen and will witness plenty of blockbuster prequels and sequels (Men In Black III, Prometheus, Ice Age: Continental Drift, The Dark Knight Rises, to name a few). Madagascar 3 opened last weekend in the US to a tuneful $60.4 million, beating Prometheus, and is likely to do well in the region too as temperatures soar and audiences flock to air-conditioned theatres. You don't need to have seen the film's two predecessors to enjoy this 93-minute installment.
All three are directed by Eric Darnell, who also squeezed a television series 'The Penguins of Madagascar' out of the movie.
In Madagascar 3, Darnell's proved again that great writing has to accompany awe-inspiring animation to keep audiences locked. Adults will delight in subtle, witty lines more than children – Melman (Schwimmer) declares at one point that he is a doctor, a line we all know pays tribute to Schwimmer's Ross character in the Friends sitcom. Kids, meanwhile, will watch open-mouthed and in fits of laughter as Alex and his dozy pals fly through colorful skies, run from their enemies and perform in at least one spectacular psychedelic circus scene.
The finale is a surprise – the perfect ending to a massively fun family film.
video#1